INFOGRAPHIC
Consumer Complaint and Compliance Trends for Bank-Fintech Partnerships
An analysis of consumer complaints submitted to the CFPB and the compliance risks they present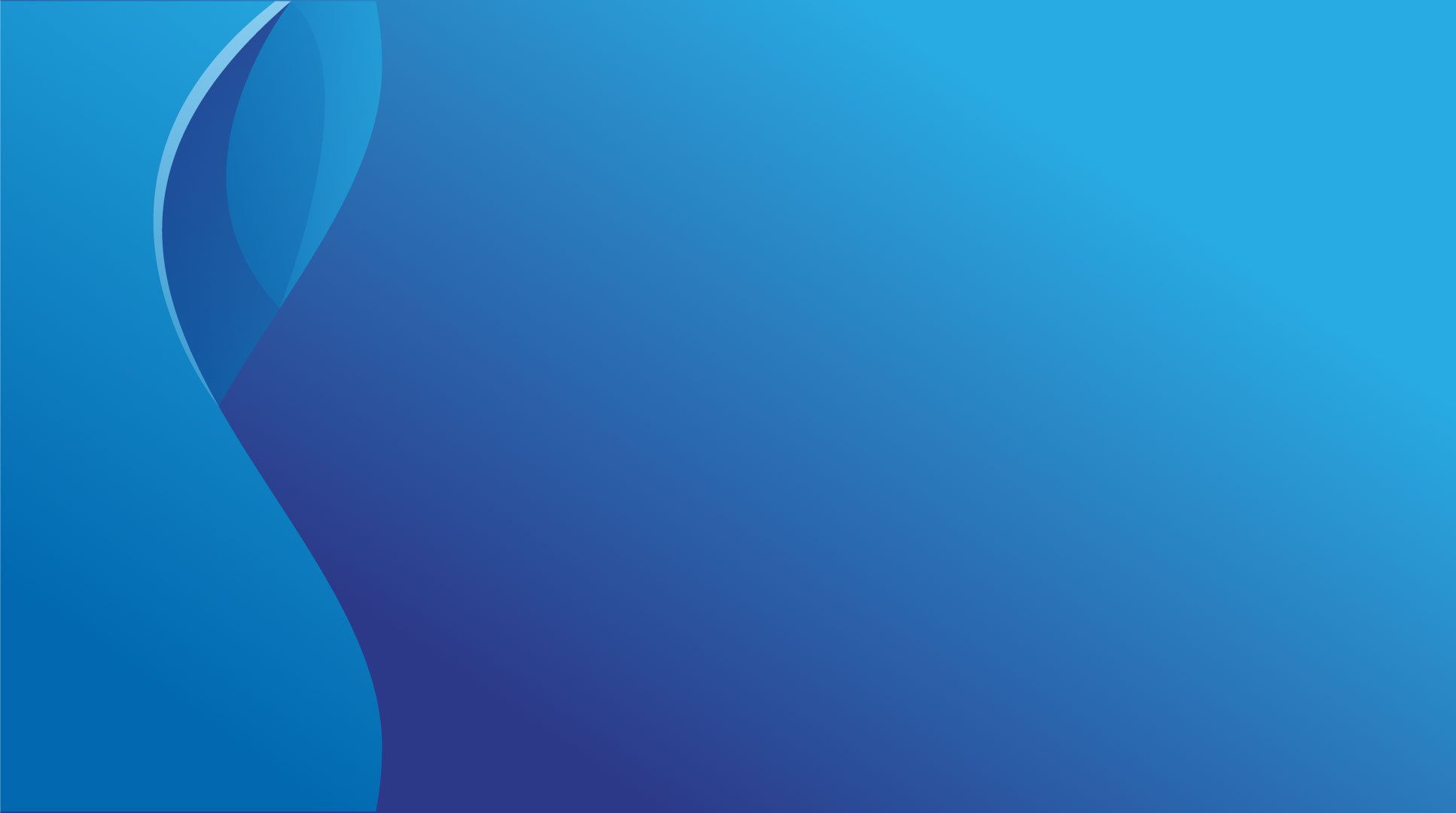 PerformLine's Complaint Risk Signal Report takes a deep dive into consumer complaint data collected from the CFPB's Consumer Complaint Database to highlight key trends, present notable observations, and provide actionable takeaways.

Here are the top 4 consumer complaint trends that fintechs and partner banks should know to mitigate compliance risk.
Background: Increased Growth, Increased Compliance Risk
Before jumping into the complaint and compliance trends, here are some quick stats on the growth of bank-fintech partnerships:
89% of banks consider fintech partnerships an important factor for growth as of 2021
65%
of banks entered into fintech partnerships between 2019 and 2021
Banks' average investment in fintech has grown
330%
in 2021 from 2020
Banks that partner with fintechs average 2.5 partnerships per institution
As the number of bank-fintech partnerships continue to grow, compliance risks increase significantly as there's more potential for compliance issues across these partners (and their partners, too).
Between January 1 and October 1, 2022, there are over 11,500 consumer complaints against fintech and partner bank companies*
* Aggregate data pulled by filtering complaints by fintech and partner bank companies
Total Bank-Fintech Complaints


Month Over Month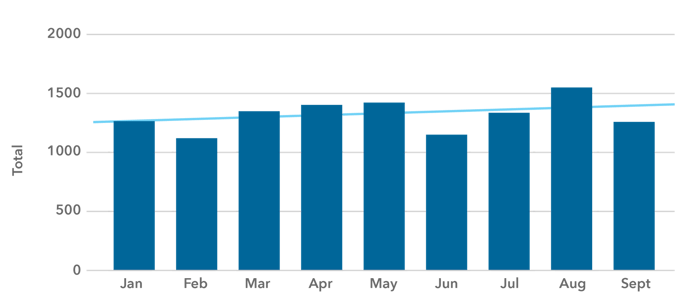 Complaints against these types of companies have been trending upward since the beginning of this year. Although there was a slight dip between June and July, complaints spiked again in August and September.
The majority of complaints submitted to the CFPB were against fintech brands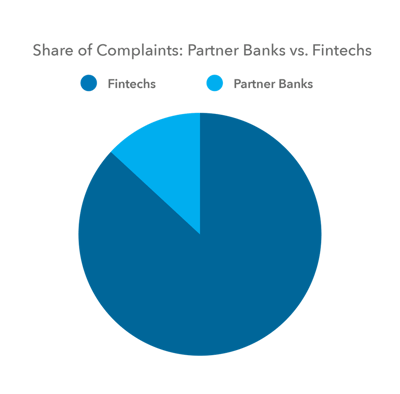 87%

of complaints in the CFPB's database for banks and fintechs were made against the fintech brand, not the partner bank.
Since the partner banks are typically "behind the scenes" of the transaction and the fintechs are consumer-facing, consumers are more likely to submit complaints against the fintech.

However, when the CFPB and other regulatory agencies investigate complaints against fintechs, they'll also be investigating the partner bank associated with that fintech.

Banks are expected to have vigorous oversight and ongoing monitoring of their fintech partners to ensure that they're in compliance with regulations and are meeting consumer protection obligations. Similarly, regulators expect fintechs to have their own compliance management system.

Failure to have proper compliance oversight of third-party partners could lead to supervisory and enforcement actions from the CFPB and other regulators, including the OCC.
The top products and services complained about for bank-fintech partnerships are checking accounts, mobile wallets, credit reporting, and credit cards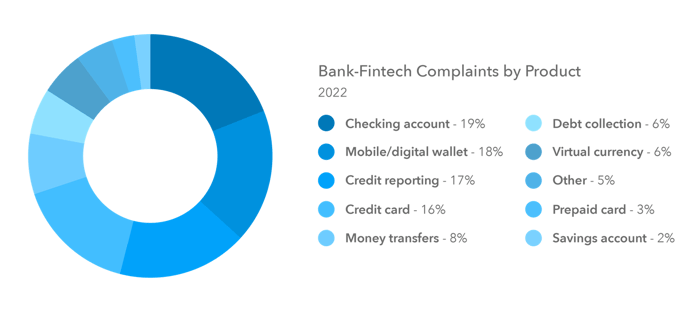 The most complained about products specific to bank-fintech partnerships include checking accounts (1,968), mobile wallets (1,794), credit reporting (1,690), and credit cards (1,644).
Oversight of third-party partners should include ensuring that they're in compliance with regulations for the specific product(s) and/or service(s) that are being offered, including those listed above.
In April 2022, the CFPB invoked a dormant authority to examine nonbank financial companies that pose risks to consumers, which includes nonbanks whose activities the CFPB has reasonable cause to determine that they pose risks to consumers.
What This Means for You: As the CFPB is increasing its supervision to target nonbank entities (including fintechs), a strong compliance management system and a robust third-party risk management process are crucial to mitigating risk.
Mitigate Third-Party Compliance Risk with PerformLine
Having a compliance program that can grow and scale alongside your partnership program is a key component for getting out ahead of risk from the CFPB, the OCC, and other regulatory agencies.
PerformLine's omni-channel compliance monitoring solution provides:
Comprehensive coverage of your organization and your partners across marketing channels, including the web, calls, messages, emails, documents, and social media
An adaptable compliance program that matches your risk threshold as you bring on new partners
Scalability as your partner program grows, allowing your organization to bring on more partners faster while ensuring compliance
A competitive advantage with a robust and proactive compliance management system
Get complete compliance coverage with PerformLine