INFOGRAPHIC
Consumer Complaint and Compliance Trends for the Mortgage Industry
An analysis of consumer complaints submitted to the CFPB and the compliance risks they present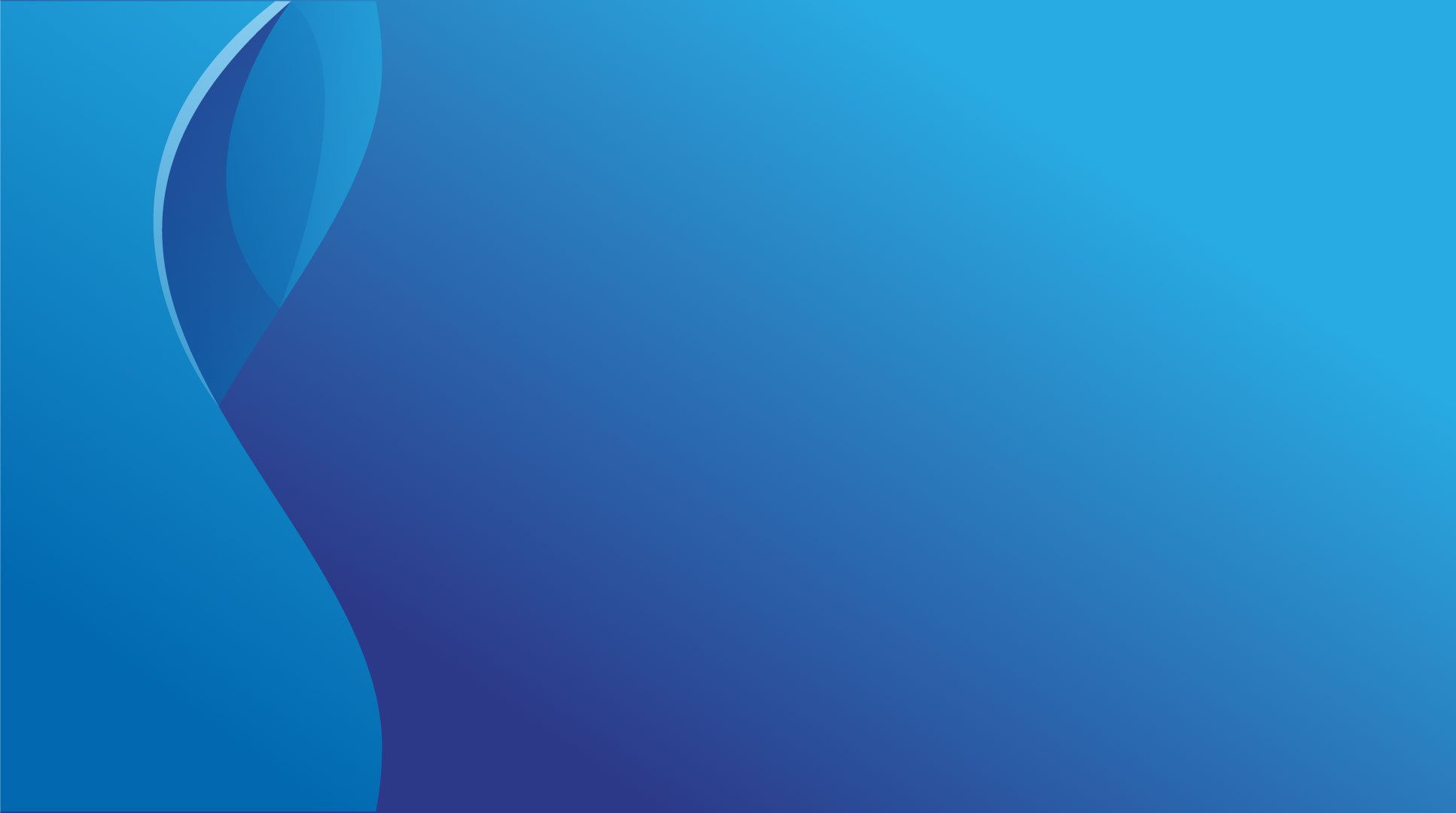 PerformLine's Complaint Risk Signal Report takes a deep dive into consumer complaint data collected from the CFPB's Consumer Complaint Database to highlight key trends, present notable observations, and provide actionable takeaways.

Here are the top consumer complaint trends that mortgage companies should know to mitigate compliance risk.
Total Mortgage Complaints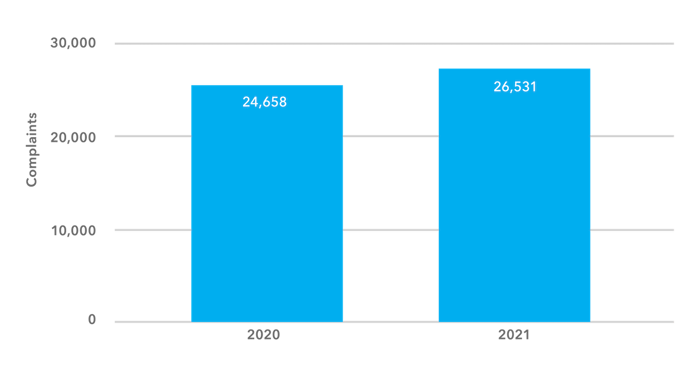 The total number of mortgage complaints increased 7.5% in 2021 compared to 2020.
All Mortgage Complaints

Quarter Over Quarter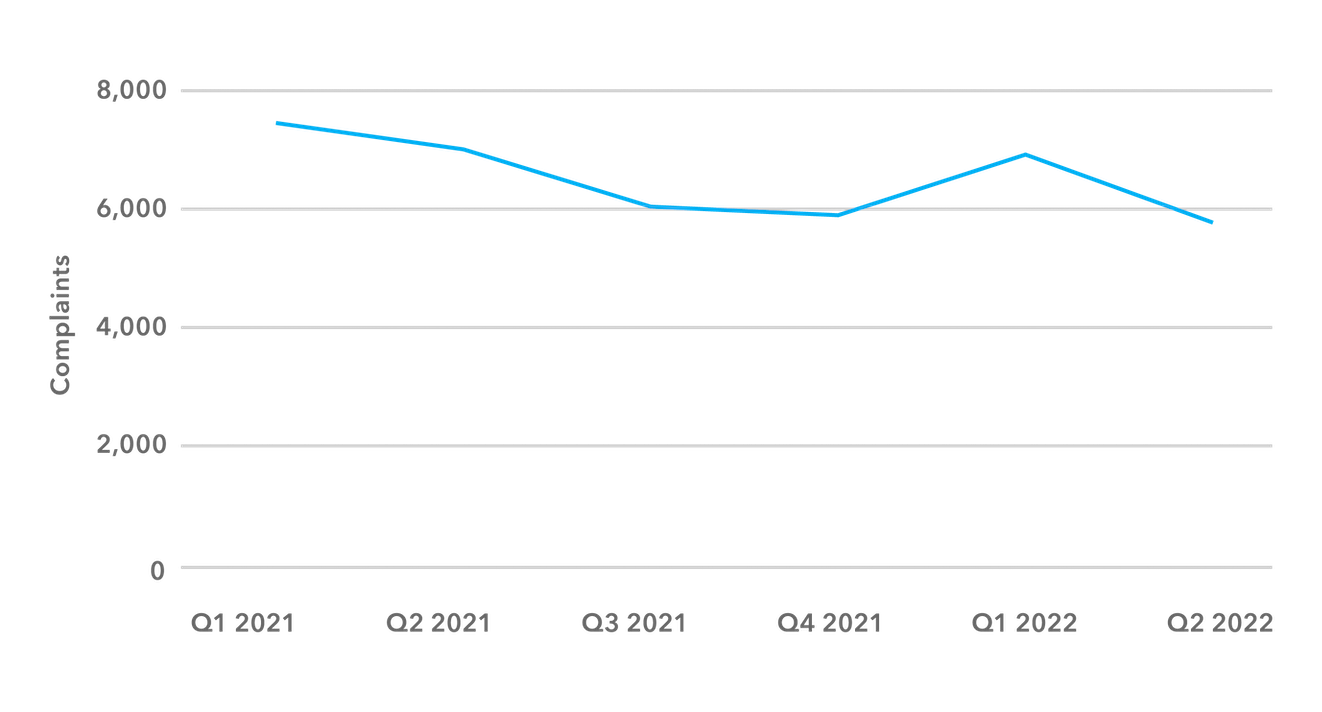 Mortgage Complaints by Issue

Quarter Over Quarter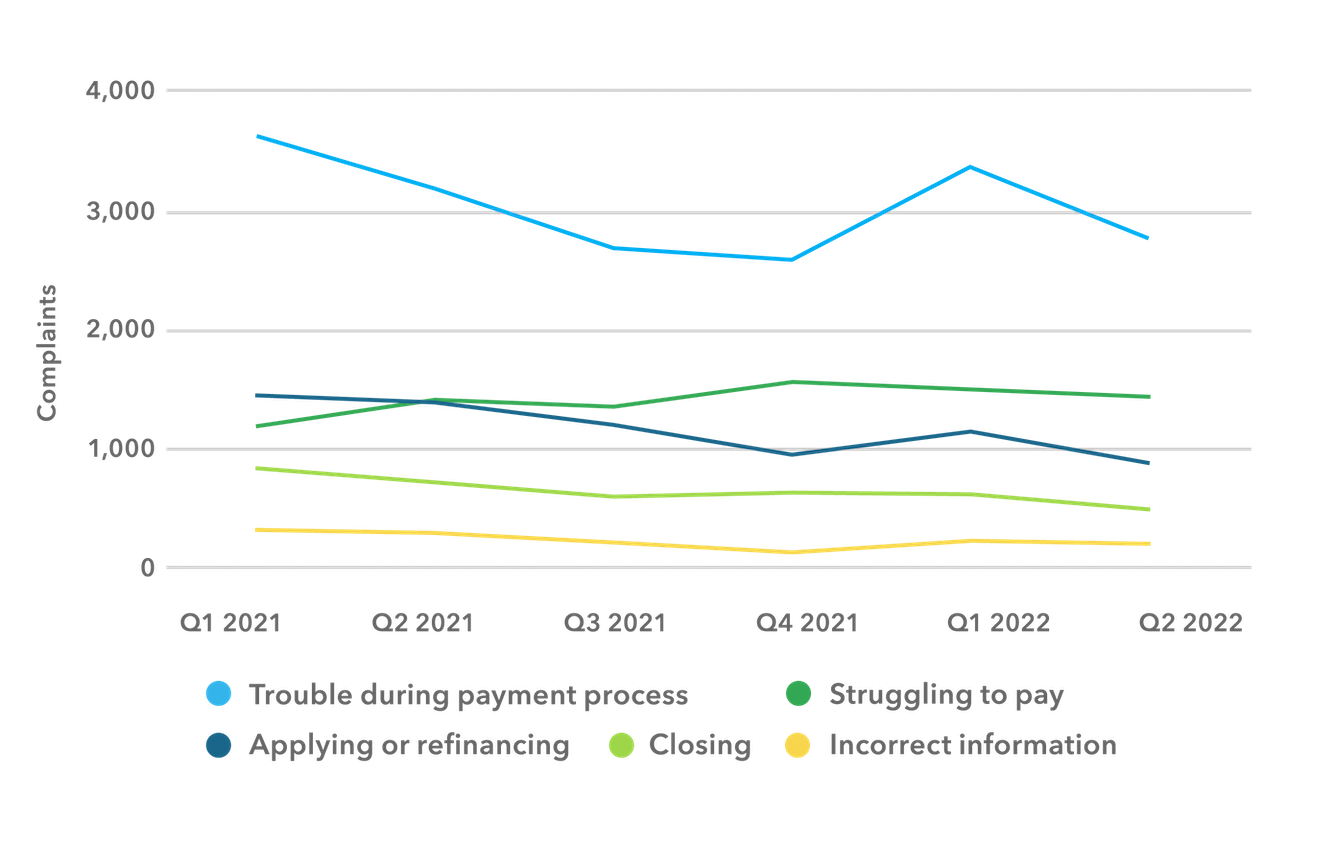 Mortgage complaint volume peaked in early 2021, but has generally been on a decline through Q2. Complaints did spike again in March of 2022, with the spike caused by increased issues around struggling to pay a mortgage and applying for or refinancing a mortgage.
According to the CFPB, In 2021, consumers increasingly raised concerns about forbearance. Common complaints included:
Difficulty reaching a servicer representative to talk through options

Needing to correct inaccurate credit information furnished about a loan in forbearance

Ensuring that the principal balance is accurate after a deferral plan becomes effective

Providing accurate information about loan status and relief options during forbearance

Accurately communicating that no written application would be required to extend a forbearance plan

Not imposing an inspection fee, late payment fee, or modification fee during a CARES Act forbearance period

Accurately applying payments while a loan is in forbearance or while the post-forbearance review is ongoing, including after a servicing transfer
In May of 2022, the CFPB published a report that outlines observations from data collected from sixteen servicers. The data identified three main observations from mortgage servicers during the pandemic, which includes call center and hold time variability, delinquency and exits from forbearance, and servicer data challenges.
What This Means for You: While the large majority of borrowers have exited from COVID-19 pandemic hardship forbearances, the data provided by 16 servicers as part of the CFPB's ongoing pandemic response monitoring efforts reflect the continuing risks facing borrowers and significant differences among servicers.
From January 2021 through June 2022, there are over 4,000 complaints in the CFPB's database with narratives that include at least one keyword related to discrimination, bias, or fair lending issues across all financial services products (keywords include variations of discrimination, bias, ethnicity, sexual orientation, or gender).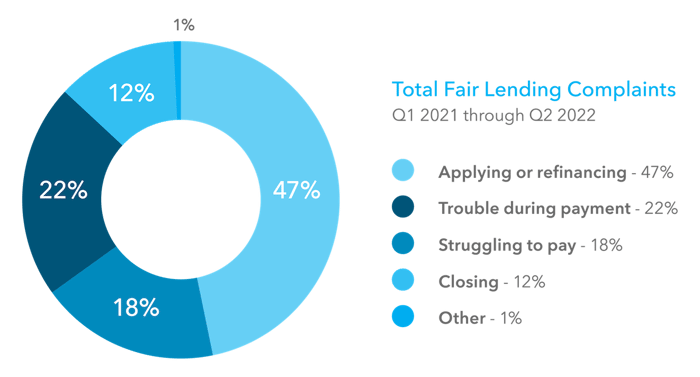 The total number of mortgage complaints increased 7.5% in 2021 compared to 2020.
A majority of fair lending complaints pertain to issues applying for a mortgage loan or refinancing an existing loan.
The CFPB has taken steps in 2022 to increase their supervision and enforcement of fair lending laws, including updating the UDAAP examination manual to include "discrimination" under "unfair" and taking several enforcement actions against mortgage companies for deliberate discrimination and redlining.
The CFPB continues to examine institutions' marketing practices, especially when it comes to how companies are marketing to hard-to-reach communities, including those consumers with limited English proficiency. We are particularly concerned about practices that create financial risks, lead to costly fees, or impede consumers' understanding of their rights. We will also examine how the consumer information being collected by financial institutions may be used in conjunction with deceptive marketing tactics.
What This Means for You: Director Chopra has made it clear that the Bureau will continue to scrutinize mortgage companies who engage in discriminatory actions, especially in marketing materials. Mortgage companies should take extra caution in their marketing strategy and materials to ensure that there are no signs of discrimination, whether it be intentional or not.
Avoid Consumer Complaints with a Strong Marketing Compliance Program
Ensuring all marketing and sales communications with your consumers are compliant and transparent is critical to building trust.

PerformLine is built to help mortgage compliance teams protect their brands by mitigating risk in their marketing and sales channels while gaining efficiency through automation.

With PerformLine, organizations like yours can monitor all of its marketing channels and partners at scale to better protect consumers and avoid the complaints that lead to investigations and enforcement actions by the CFPB.
Level Up Your Compliance Program