A Financial Institution's Guide to Social Media and Compliance
A Financial Institution's Guide to Social Media and Compliance
Social media is one of the most powerful marketing channels used today, unlocking the potential to reach billions of consumers worldwide—but with great reach comes great risk.
In this guidebook, we explore a wide range of topics surrounding social media compliance for financial institutions, including:
Complying with regulatory requirements across social channels

Six critical elements for a risk management program

Advertisement and endorsement disclosure requirements

Reputational risks and how to mitigate them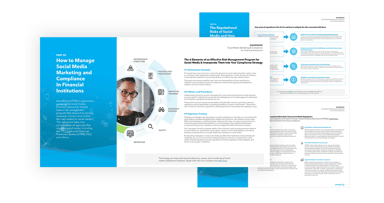 Download now to help your organization thrive with social media marketing while staying compliant, mitigating risk, and streamlining the compliance process.
Discover. Monitor. Act
Mitigate regulatory risk and ensure brand safety
PerformLine helps leading organizations mitigate compliance risk across consumer touchpoints. See how we can protect your brand across the web, calls, messages, emails, documents, and social media.