INFOGRAPHIC
Consumer Complaints, Enforcement Actions, and Compliance Trends from the CFPB
An analysis of consumer complaints submitted to the CFPB, the enforcement actions that come from them, and the compliance risks they present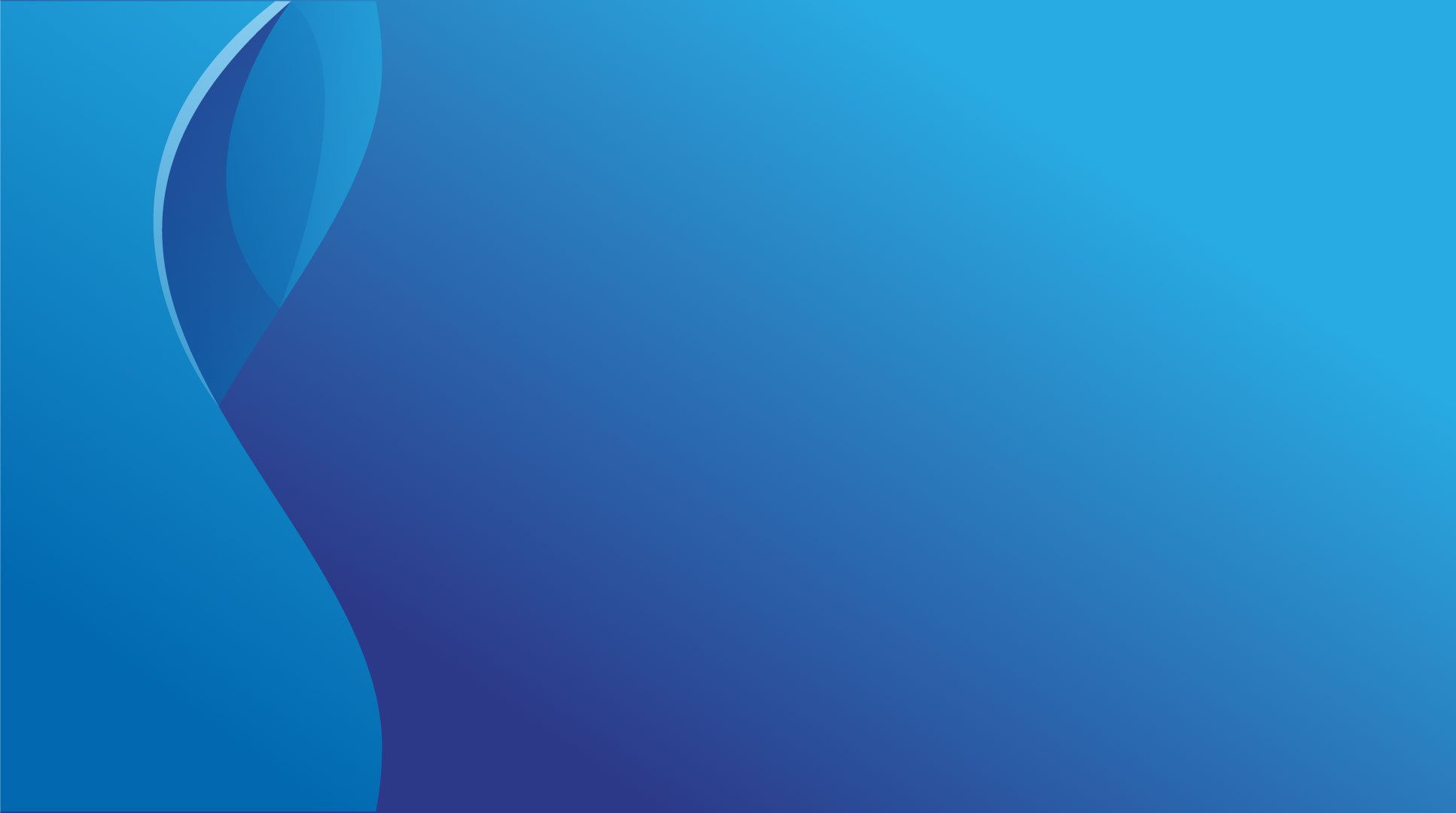 PerformLine's Complaint Risk Signal Report takes a deep dive into consumer complaint and enforcement action data collected from the CFPB's Consumer Complaint Database to highlight key trends, present notable observations, and provide actionable takeaways.

Here are the top consumer complaint trends that consumer finance companies should know to mitigate compliance risk.
Consumer complaints have increased significantly year over year since 2019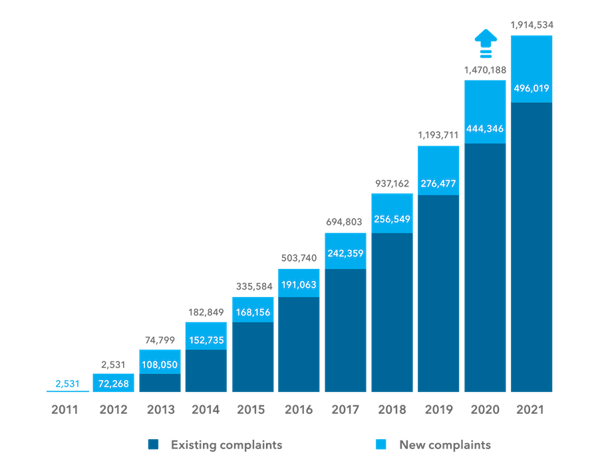 Consumers submitted nearly 500,000 complaints in 2021—a 12% increase from 2020 and an 80% increase from 2019.
Consumer complaints have surpassed 600k in 2022—a 50% increase from the same time period in 2021
Consumer Complaints - 2022
Month Over Month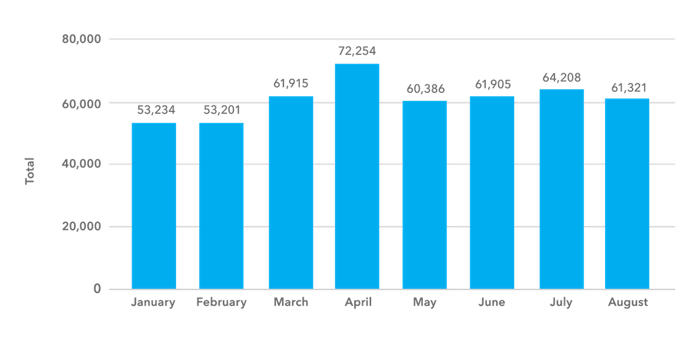 Total complaints in the CFPB's database so far in 2022 has already surpassed the total complaints submitted in 2021, up 22%.
"The CFPB uses this [complaint] information to monitor risk in financial markets, assess risk at companies, and prioritize agency action. The CFPB makes complaint data and analyses readily available to CFPB staff to support their supervisory, enforcement, and market monitoring activities."
What This Means for You: The CFPB has made it known that they regularly utilize consumer complaint data to guide their supervisory and enforcement actions. Regularly monitoring complaints and remediating any gaps in the compliance monitoring process will help proactively mitigate regulatory risk.
Total enforcement actions from the CFPB
Since its creation, the CFPB has taken:
302
Public Enforcement Actions
Enforcement trends year over year
Count of CFPB Enforcement Actions
Year Over Year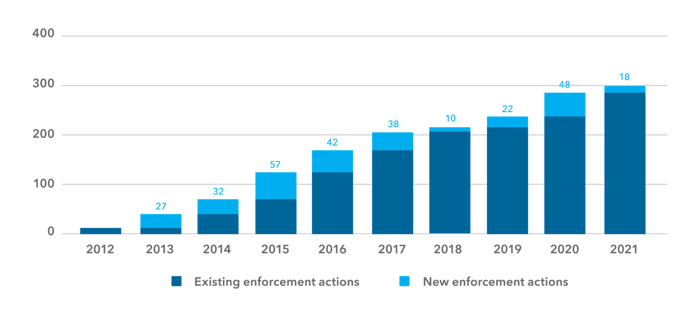 CFPB Consumer Relief
Year Over Year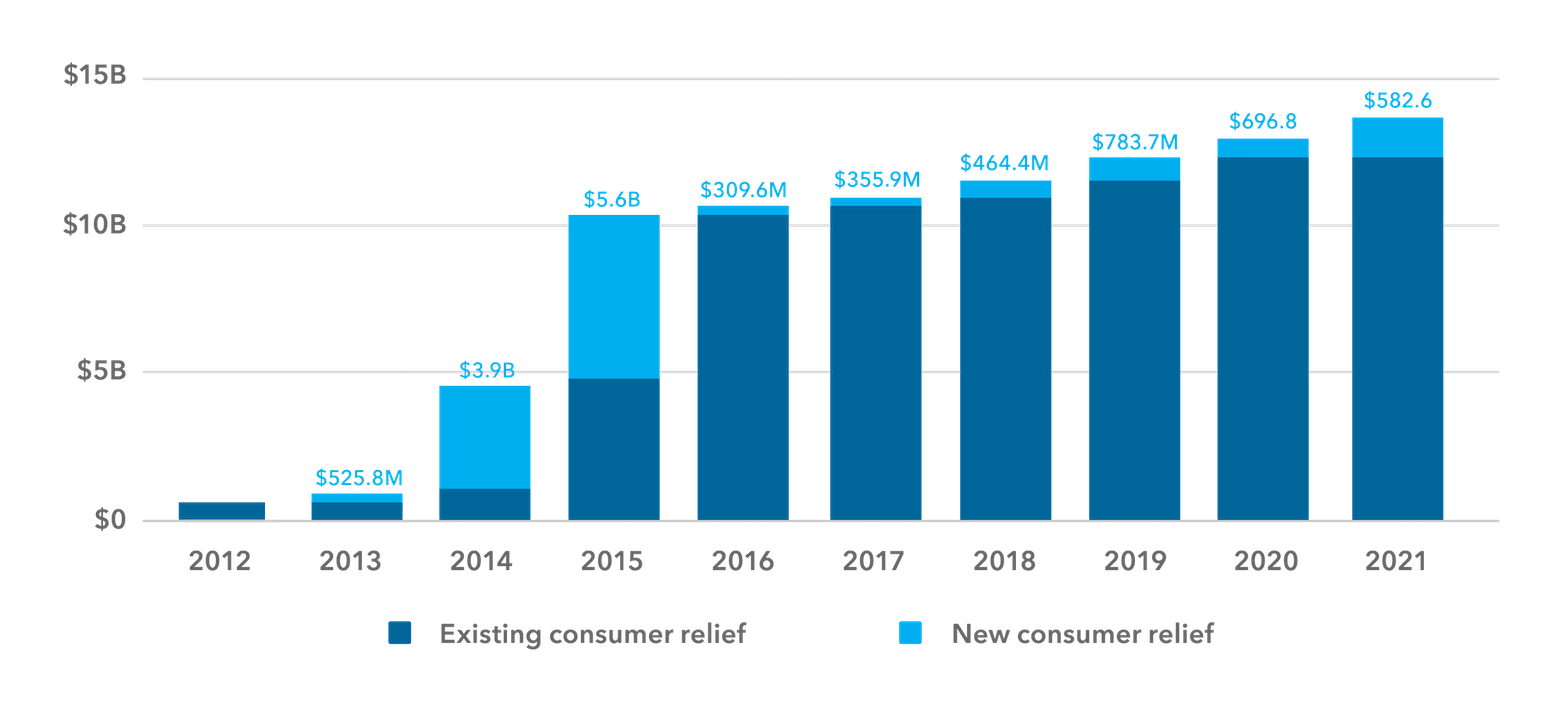 While total enforcement actions decreased in 2021 compared to 2020, the CFPB has taken 17 enforcement actions as of October 2022, and will likely surpass the total from 2021.
"Financial products are often very challenging to understand…and what is often going to fix it is to eradicate unlawful actors who really prey on people."
What This Means for You: Director Chopra has made it clear that the Bureau is prioritizing enforcement over consumer education. Chopra stated that the strategy of his predecessor Kathleen L. Kraninger has not shown much success, and he believes that consumer education can actually cause more harm than good because it can lead to overconfidence in consumers. The Bureau will continue to place an increased focus on the actions of financial institutions and will not hesitate to take corrective action via enforcement.

Risk of Enforcement Based on Complaints
When analyzing complaints, the CFPB suggests that complaint volume should be considered in the context of company size and/or market share. For example, companies with more customers may have more complaints than companies with fewer customers. We encourage you to pair complaint data with public and private data sets for additional context.
Taking this into consideration, we've analyzed all of the Bureau's previous public enforcement actions (2012 - 2022) to explore the average complaint count before an enforcement action is taken, the average fine amount, and what percentage of annual revenue that fine could be—all based on annual revenue.
Use this scale to help your organization determine its risk of enforcement action based on consumer complaints in the CFPB's database.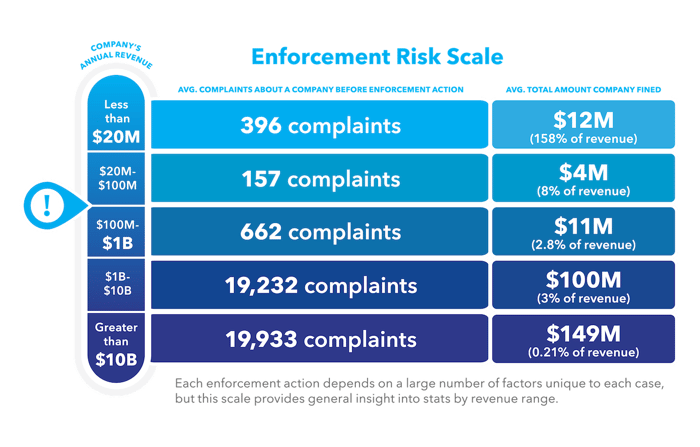 The higher the annual revenue, the higher average number of complaints before an enforcement action
Higher annual revenues typically warrants a higher fine amount
Institutions with annual revenue less than $20 million will likely feel the impact of a penalty more, as they can be up to 158% of annual revenue
Avoid Consumer Complaints and Enforcement Actions with a Strong Marketing Compliance Program
Ensuring all marketing and sales communications with your consumers are compliant and transparent is critical to building trust.

PerformLine is built to help compliance teams protect their brands by mitigating risk in their marketing and sales channels while gaining efficiency through automation.

With PerformLine, organizations like yours can monitor all of its marketing channels and partners at scale to better protect consumers and avoid the complaints that lead to investigations and enforcement actions by the CFPB.
Get complete compliance coverage with PerformLine